News
Benefits of Taking Your Stormwater Training Online vs. Face-to-Face
Dec 19, 2019
How do you plan on completing your stormwater training in 2020? Here at StormwaterONE, we want to show you the benefits of taking our online training and how it is faster, easier, and more educational, than going to a traditional face-to-face classroom. If you are a construction professional looking to get certified in stormwater training, the infographic below will show you a few reasons why our online classes can benefit your workforce.
Learn More, Faster!
Taking your stormwater training online is far less of a time investment. Information is being brought to you anytime, anywhere. Why bother going to a classroom, when you can gain the same information from your office or living room? A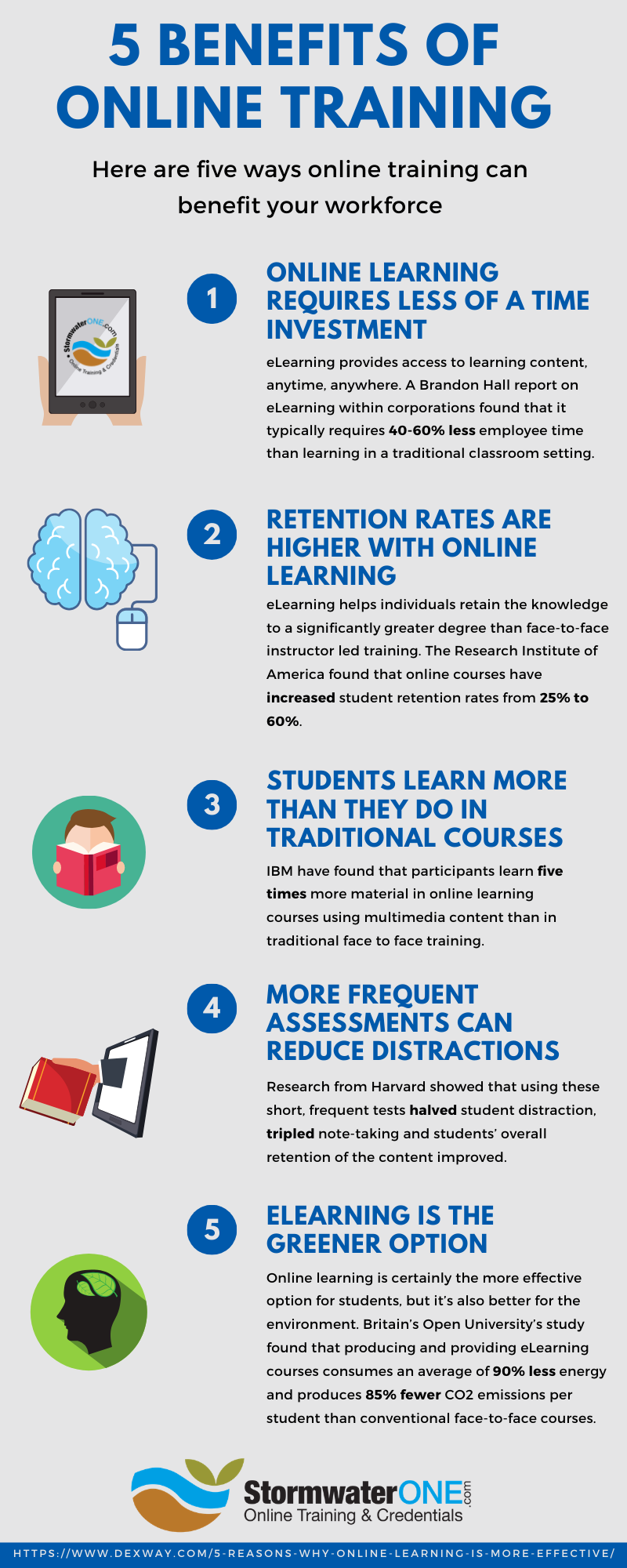 ccording to a Brandon Hall report on eLearning within corporations, it has been discovered that online learning typically takes 40 to 60 percent less employee time than learning in a traditional classroom setting. Online courses can help companies save time and money on their employee's education. Along with online training being more convenient, students can learn more compared to in-person training. A study by IBM has shown that participants learn up to five times more material in an online course using the multimedia content rather than being in a traditional face-to-face classroom.
Not only do students learn more, they also retain the knowledge at higher rates with online learning. The Research Institute of America has found that online courses have increased student retention rates from 25 percent all the way up to 60 percent. This proves that individuals retain the information at a higher degree from learning online. Within the online courses, you are quizzed after each chapter to make sure you were retaining the information. The frequent assessments that the online classes provide can also reduce distractions amongst the students. Research from Harvard has shown that having these short, frequent tests in the courses cut the amount of distractions from students in half. They have also tripled the amount of note taking amongst students, which causes the students' overall retention of the content to improve. Our online stormwater training also gives as many chances as you need on the tests and quizzes to ensure you pass, compared to an in-person class where tests and quizzes are only taken once.
Flexibility!
By taking your stormwater training with us, you are free to learn at your own pace. You take yourself step-by-step through the chapters and can take as long or as short as you want. Traditional classrooms are centered around the instructor and whether it is a lecture or a slide show, it is not always easy to retain all the information. With online learning you have plenty of time to take notes instead of worrying about the content. If you also feel like you missed something and need to go back, our courses give you the opportunity to do so without the pressure of interrupting an instructor or class.
Less Expensive!
The other big issue when it comes to starting your training is how expensive the classes can be. That is why another benefit of online classes is that they generally are a lot cheaper than traditional classes. The average student attending online classes will spend only $100 to $400 per credit hour. Whereas traditional in-person classes could start at $600 and range a lot higher. A report from U.S. News states that 45 percent of students agree that cost is a main priority to them, which means choosing to take online classes would be the right financial choice.
So, if you are still deciding on how to take your stormwater training in 2020, come learn online here at StormwaterONE.
Human-induced accelerated erosion can increase the rate of erosion by more than 2,000 times that of natural occurring erosion.
Committed Clients: