News
Apr 30, 2018
Yale Office of Sustainability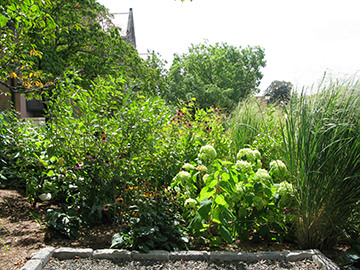 {The Sage Rain Garden collects rainwater from the roof of Sage Hall.}
The Yale Office of Sustainability and Office of Facilities released an update to the Sustainable Stormwater Management Plan 2013, as initial fulfillment of the Yale Sustainability Plan 2025. The update provides examples of sustainable stormwater efforts on campus since the initial plan was released in 2013, and describes strategies for managing stormwater as a resource.
The update builds off the original plan, and was developed in alignment with local and regional priorities, addressing flooding, pollution, and resilience. Strategies include improving data quality related to campus stormwater management, aligning design standards and planning documents, implementing stormwater management projects on campus, and adapting as more information becomes available.
The update calls for a reduction of impervious cover on campus by 45,000 square feet by fiscal year 2020. This goal goes beyond stormwater installations that are incorporated into major capital projects and allow more opportunities to implement, monitor, and assess the effectiveness of innovative stormwater techniques including bioswales, downspout disconnections, rain gardens, and porous pavement.
Other goals include indexing stormwater management practices and impacts on both capital and operational projects completed at Yale from 2012 to 2020, consolidating flooding information, implementing a stormwater quality testing program, updating design standards and planning documents with a preference for low-impact development and green infrastructure, and creating a comprehensive master plan.
This update serves as a guide for future academic and operational projects, and provides priorities for the establishment of Yale's High Performance Design Standards and Campus Resilience Plan. Yale will continue to align with local and regional efforts through an adaptive management approach, in an effort to reduce the impacts of its stormwater runoff.
Yale is committed to building a more sustainable world. By doing what we do best—integrating science, the humanities, and our community—Yale creates, tests and adopts innovative solutions to the environmental and social challenges we all face.
Copyright © 2018, Yale University
Truly a pleasure!!
It was one of the most interesting classes I have ever taken... VERY NICELY PRODUCED. GREAT JOB. Compared to my recent 30 hour OSHA construction outreach cert this was truly a pleasure!!
M. Ortiz
Committed Clients: