WP Residents Raise Concerns About Storm Water in Wake of Hurricane
Oct 14, 2016
The Pilot - Serving Moore County, NC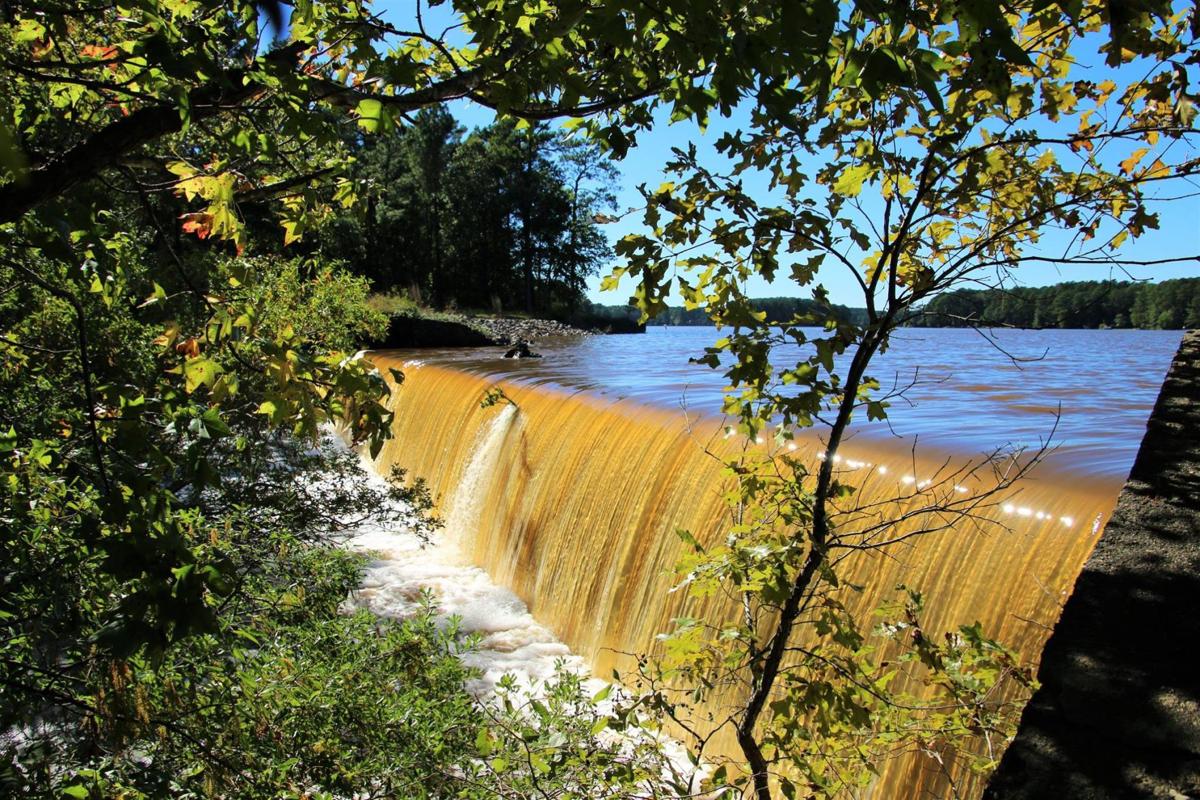 {The spillway at Thagards Lake. All eight dams at Whispering Pines' lakes held during the torrential rainfall from Hurricane Matthew and storms preceding it. But some residents are worried about stormwater retention ponds and their chances of overflowing. (David Sinclair/The Pilot)}
Among the many Whispering Pines residents still dealing with the effects of Hurricane Matthew, some in the Arrowstone subdivision off Hardee Lane are blaming a substandard retention pond for flooding around their homes.
During Wednesday's village council meeting, council members characterized Matthew's rainfall as a "500-year" event. Mayor Michelle Lexo said that every member of the village's police, fire, public works, and administrative staff reported for duty over the weekend to orchestrate damage control, including clearing downed trees from roads and driveways.
By Sunday afternoon, she said, every road in the village was clear with the exception of Rays Bridge, where a downed power line complicated matters.
"I personally would like to say thank you to every member of our staff and our volunteers for doing an excellent job in a very serious circumstance," said Lexo. "This was a storm that was not anticipated."
While not the only area affected — Thagards Lake on the north end of the village rose about three feet — residents of Arrowstone blamed a retention pond on Spearhead Drive for the extent of the flooding in their area.
"It failed to do its job," said Karen Tiller, adding that waters rising from the pond damaged her home's heat pump beyond repair.
"We're going to have to pay out of pocket to fix our house. That is what it is, but what are we going to do when it rains again? There's still water in that retention pond."
Nicole Mathews, whose yard abuts the pond, reported that the limits of the pond and area surrounding it were already tested by heavy rains during the last week of September, when water accumulated in the pond and had not yet drained when the hurricane blew in scarcely a week later.
"Before the hurricane came I watched out my window the water rise and roll into my yard, with just a bad couple days of rain," she said. "You guys sent crews out and I thought, 'oh great they're going to remove some trees and clean out debris and weeds and stumps.' Trash flows into it each rain. With that bad week of rain, I got very nervous thinking we're not in a flood zone, but I'm about to be flooded.
Michael Tyhanic, who lives in the same area, referred to the pond as an "eyesore" at best.
"There is nothing but weeds, trees, garbage in there," he said. "When the hurricane hit, that thing overflowed within no time. We had a river come down the side of the house, three feet from the house. If it would have rained 15 more minutes it would have flooded us out."
Council member Colin Webster said that the pond, which is owned by the village, was likely built by Arrowstone's developer to absorb the rainfall from a 100-year flood event in accordance with state environmental regulations for stormwater plans.
"In this particular case we had a 500-year storm," he said. "Therefore it is not surprising that the event exceeded the parameters that have been approved by the state and figured out by all these very smart people, put in place by the developer and subsequently inspected and checked."
Though pressed for an immediate solution, village council members promised thorough research of the issue and a November report, In the meantime, there is little chance of a quick fix.
"If we get another of these guys next week, all bets are off," said Webster.
In response to residents' concerns that recent construction at the Moore County Airport and the Summerfield subdivision might have contributed to the area's poor absorption rate, Lexo pointed out that Hurricane Matthew caused flooding throughout Whispering Pines.
"We have had so much water happen within the last two or three weeks that water just doesn't have anywhere else to go; the lakes are full to the brim, the water is running over and there's nowhere for it to go," she said.
"We're doing a happy dance that of our eight dams, not one of them breached — and we have all-earthen dams."
Webster said that any effort to floodproof the village will likely involve reevaluating the entire stormwater system: from water originating at the airport and running off over the drainage basin.
"We don't know the extent of the problem. There are a lot of technical issues associated with the problem. When you have a stormwater system it considers percolation rates, it considers runoff rates, it considers speed of runoff, it considers a while lot of things. So there's a lot of data gathering that needs to go on before you can come up with an intelligent answer."
--------------------------------------------------------------------------------------------------------------------------------------------------------
Contact: Mary Kate Murphy at (910) 693-2479 or [email protected].
Credentials and Credibility
I believe the QPswppp program offers individuals a self-paced learning platform to provide the credentials and credibility that busy professionals in the storm water industry deserve. Thanks stormwaterone!
Jeremiah S., City of Euclid
Committed Clients: