With Shawnee facing $100 million stormwater problem, fee and tax increases should be in play, public works director says
Jun 06, 2016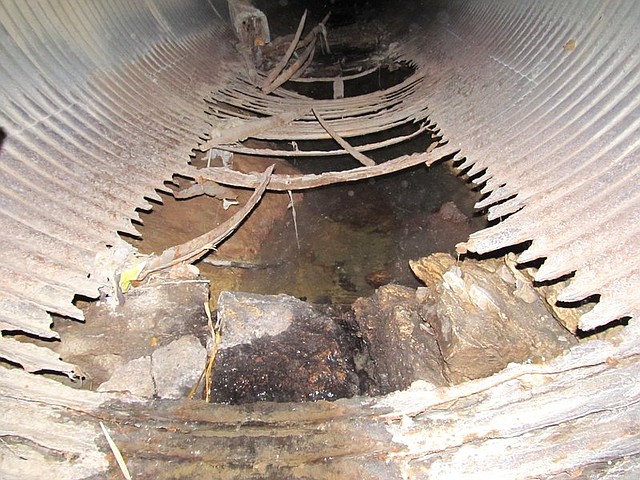 {A deteriorated stormwater pipe is currently being relined underneath Holliday Drive near Interstate-435. | City of Shawnee.}
The city's aging stormwater infrastructure is in dire need of repair and maintenance, but it's going to require more money, said Doug Whitacre, Shawnee public works director.
During a recent council committee meeting, Whitacre urged the governing body to consider increasing funding for the city's stormwater program during its budget deliberations this summer.
Right now, the city has more than $100 million worth of pipes that need to be replaced or repaired over the next 20 years, he said.
There are 179 miles of stormwater pipes in Shawnee, of which nearly 60 percent have exceeded their life expectancy.
About 102 miles of pipes, made of corrugated metal, have an average age of 31 years.
"If we don't start repairing these pipes, there will be major failures and many emergency repairs," Whitacre told the Dispatch. "There are a lot of corrugated pipes underneath our major thoroughfares. If these pipes fail, there is potential for flooding or roads collapsing."
The stormwater program's annual revenue stream is currently $2.4 million, funded by stormwater fees and a transfer from the general fund.
But that amount barely covers emergency repairs, Whitacre said.
This year, the city has already spent $1.2 million on a couple major stormwater projects.
A few months ago, deteriorated pipes caused a large hole to appear along Quivira Road, just south of 73rd Street. It cost the city $200,000 to replace the entire pipe under the road and required lanes to be shut down on the major thoroughfare.
"If we hadn't fixed it when we did, the whole road could have collapsed," Whitacre said.
Also, the city is currently relining a stormwater pipe underneath Holliday Drive, between I-435 and the landfill entrance, in a $1 million repair project.
With heavy rains over the past couple months, the city has been receiving numerous calls about sinkholes appearing as well.
The city has three alternatives for increasing funding.
The one Whitacre proposed to the council would require $98 million of funding over the next 20 years. It would cover around 35 miles of pipes, and it would significantly minimize the need for emergency repairs, by replacing the worst pipes, and allow for additional maintenance.
The most expensive alternative would be to fund the program at $114 million over 20 years, which would replace all of the pipes in need.
The least expensive alternative would be to fund the program at $43 million over 20 years, which would only cover emergency repairs for 10 to 12 miles.
To drastically increase the life expectancy of the city's future stormwater system, corrugated metal pipes would be replaced with concrete ones or those made with high density polyethylene.
In order to generate more revenue for the program, the city might need to significantly raise its stormwater fee and also increase the city's mill levy, Whitacre said.
For Shawnee homeowners, the stormwater fee is set at $36 per year. The city has never increased the current fee.
The city's current property tax rate is 24.5 mills, which is among the five lowest rates in Johnson County. The city has not increased its property tax rate since 2006.
Whitacre is hopeful the city council will consider increasing funding for stormwater maintenance, as it looks over the 2017 budget.
After all, he pointed out, it's not a problem that will go away if ignored.
"Unfortunately, our pipes are all underground, so no one can see the problem," he said. "People don't know what's going on down there. It's not like roads, where if they're bad, people can see it right away."
This course was well explained in detail
This course was well explained in detail, learned more as an inspector to look for on entering a construction site, look outside the box!
Philip G.
Committed Clients: