Stormwater costs set to swell
May 16, 2016
EPA rules could mean a hefty spending hike for some communities
By: Andrew Doerfler | Sun Chronicle Staff | Original Source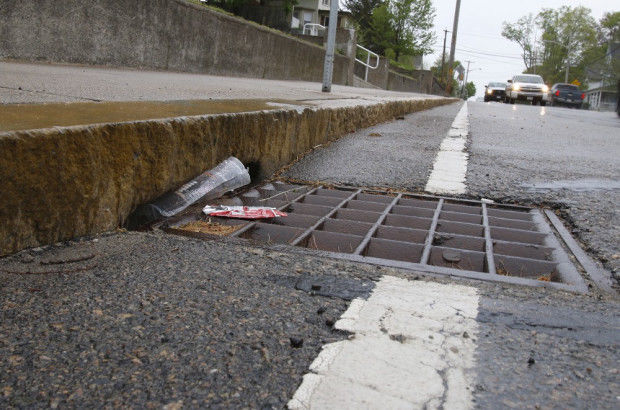 {Trash wedges between the grate and opening of a storm drain on County Street in Attleboro.}
Local communities are bracing for the cost to implement new stormwater rules from the federal Environmental Protection Agency. An effort by the state to intervene could offer some relief, but some environmentalists contend it would weaken protections.
Some cities and towns could end up spending hundreds of thousands of dollars a year to meet the EPA's mandates, but for now, most are planning and evaluating what needs to be done.
Aimed at curbing pollution in lakes, ponds and rivers to satisfy the Clean Water Act, the new stormwater requirements involve street sweeping, sampling and testing water, mapping storm drains and other areas.
The standards are attached to updated stormwater permits that were announced last month, but have been years in the making. In previous drafts, communities bristled at some of the demands and the timeline to implement them.
The EPA says a July 1, 2017, effective date will give communities enough time to plan and budget.
"I don't think a year is an unreasonable time frame, but we certainly need to start marching toward the goal," North Attleboro Public Works Director Mark Hollowell said.
North Attleboro has $50,000 previously authorized by Representative Town Meeting set aside to prepare its strategy. Hollowell said it's too early to tell what the yearly financial burden will be beyond that.
Mansfield is hiring a consultant at about $10,000 to determine how to implement the standards, Public Works Director Lee Azinheira said.
"It's a road map of what we need to do over the coming years," he said.
After the first year, Foxboro could have to spend $50,000 to $120,000 annually, but "it's kind of up in the air right now," Town Engineer Chris Gallagher said.
A major expense for Foxboro will come from the need to either buy a street sweeper for about $200,000 - plus the cost to staff it - or hire a contractor to do the work for $50,000 to $75,000 a year.
Norton Conservation Agent Jennifer Carlino said she is planning to attend one of the informational meetings that the EPA and the Massachusetts Department of Environmental Protection are holding this month.
Attleboro Conservation Agent Tara Martin did not respond to requests for comment.
Communities see potential in a state effort to take over administration of the permits. The measure would put $4.7 million toward staffing, programming and monitoring and analysis of water quality data.
Right now, Massachusetts is one of only four states that leaves administration of the permits to the feds. For cities and towns, state oversight of the program could foster more collaboration.
"Most municipalities prefer to work with the state, rather than the federal government," Azinheira said. "They have a better record of trying to work with the communities."
Some environmentalists, though, are wary of the proposal.
An attorney for the Conservation Law Foundation told The Eagle-Tribune in Lawrence that the state might not fully enforce the Clean Water Act's standards and would be subject to political pressure.
Ian Cooke, executive director of the Neponset River Watershed Association, said appeals to flexibility are really asking to allow more pollution. He was doubtful that the state Department of Environmental Protection, already cash strapped itself, could reduce the burden on towns without loosening enforcement.
"If your goal is to have clean water, we do need to make some investments in upgrading our infrastructure," he said.
He disputed that the EPA is a "distant bureaucracy," pointing to its revisions to the permits after the initial pushback as evidence that the agency is working with communities.
Azinheira nonetheless said he believes that for some of the standards, benefits don't outweigh the cost, and Gallagher said certain requirements should offer alternatives to communities that don't all share the same needs.
While the state's proposal is weighed, local officials are looking for other ways to allay the cost. Foxboro has had help from Neponset Watershed Association in seeking grants, Gallagher said.
Some facets of the permit can be done in conjunction with other communities, which would help to abate the cost for individual municipalities.
"In Massachusetts, traditionally every town is its own kingdom. That doesn't make a lot of sense when there's this mandate that's affecting everyone," Cooke said.
Hollowell said North Attleboro should also consider a stormwater enterprise fund, where residents would pay into the program to meet the mandate, "essentially taxing the rain."
"I'll tell you right now, this is going to be difficult. We already have limited personnel, and this going to take away from other things that we do. But, there is no way around it," Hollowell said. "All departments will be affected by this in some way or another."
From an average construction site, 30 tons of sediment per acre is eroded into nearby waterways.
Committed Clients: