MSD ratepayers to decide $900 million bond issue, stormwater tax
Mar 30, 2016
By: Jacob Barker, St. Louis Post-Dispatch | Original Source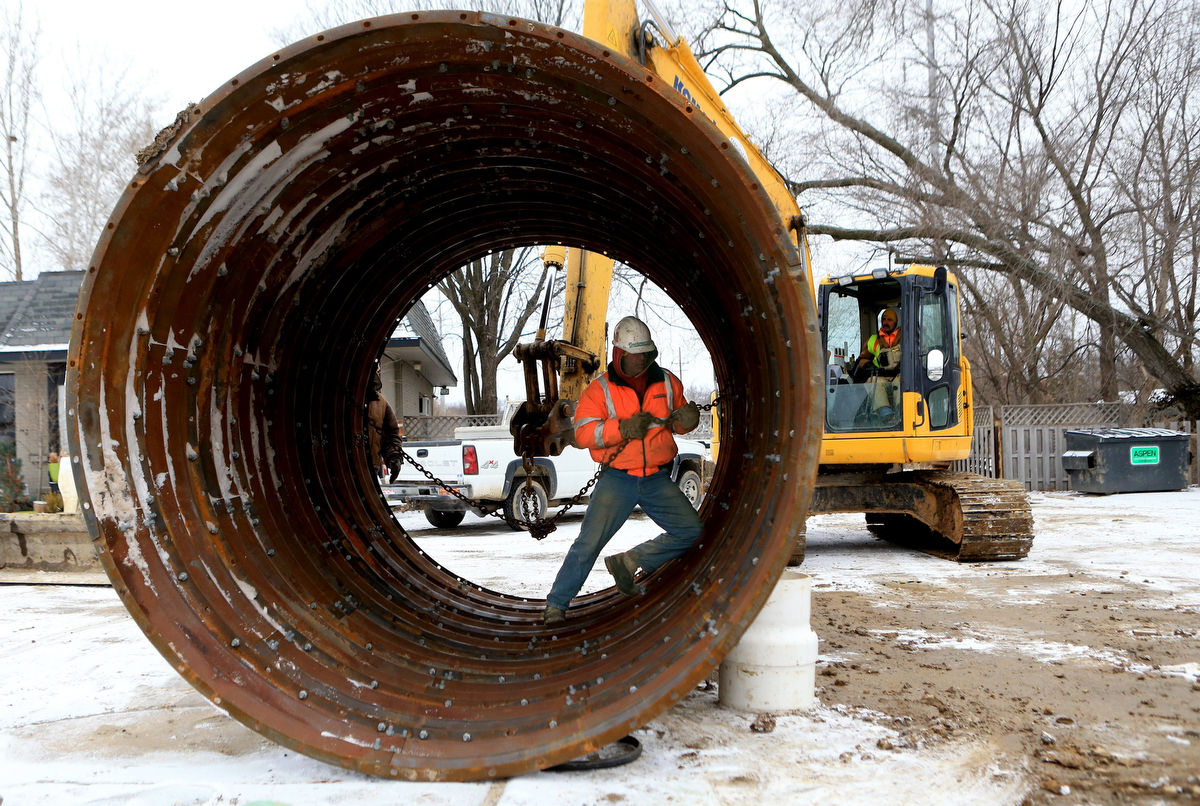 {Bob Peterson, (foreground), a laborer with Gershenson Construction Co. Inc, hooks hoisting chains to a liner plate on Wednesday, March 4, 2015, that will be placed vertically in the ground as a protective shaft while a manhole is installed to a new sanitation line at 915 Kirkwood Rd. Metropolitan Sewer District is under a federal consent decree with the EPA to cut sewage discharges. Photo by Christian Gooden, [email protected]}
St. Louis and St. Louis County voters may have to hold their nose when they vote on a sewer bond issue next week, because even if it fails, their rates will be going up.
Proposition Y would authorize $900 million in sewer bonds to continue to fund one of the region's largest-ever public works projects: a $4.7 billion revamp of the Metropolitan St. Louis Sewer District's system meant to cut overflows of untreated sewage into the region's rivers and streams.
No matter what happens, the work has to get done. It's mandated under a 2012 settlement, known as a consent decree, with the Environmental Protection Agency, which sued MSD in 2007 to force the district to fix sewer overflows.
If voters turn down the bonds, MSD will raise rates to cover the cost upfront. That will save money on interest in the long run but lead to steeper rate hikes over the next four years, MSD says.
"It really is up to the ratepayers which one they want to do," MSD Executive Director Brian Hoelscher said.
Until Monday, there was little organized opposition to MSD's proposal. But several groups advocating for minority labor groups now say they'll oppose the bond issue unless MSD resolves their concerns over its handling of a voluntary workforce diversity initiative.
MSD agreed to work toward voluntary minority workforce goals as part of the $4.7 billion infrastructure program, but the groups say MSD allowed contractors to skirt targets. They also want the district to more strongly push contractors to use laborers trained under special programs that the district helps fund.
"The question is do we go and give (MSD) another $900 million before we fix the problems that already exist?" said Adolphus Pruitt, president of the St. Louis city chapter of the NAACP.
MSD says it now requires all contractors to show good faith efforts to meet its minority workforce goals, and it is open to new training programs and tweaking existing ones. In December, MSD released numbers showing it was slightly under its goal of 30 percent of labor hours from minority workers and 7 percent from women. MSD said it obtained 26 percent of labor hours in fiscal 2015 from minority workers and 4 percent from women.
"We probably have to do some very focused investment in certain areas to get over that hump," Hoelscher said.
Sewer bills have been going up every summer to pay for $945 million in bonds voters approved in 2012 to begin work on the EPA-mandated projects. Average monthly bills have already risen by about $10 per month since 2012, and an average MSD ratepayer now pays an average of $41 per month.
If voters approve the bond issue, rates will rise to an average of $60 by 2019. If the bond issue fails, rates will rise to an average of $95 per month.
Either way, MSD has several big sewer tunnel projects coming up in the next four years, including a new $280 million tunnel near Deer Creek and two $80 million tunnels near Maline Creek and Jefferson Barracks. It also will start engineering work for the largest project to come: a nine-mile, $800 million tunnel near River Des Peres expected to begin construction in the 2020s.
The work to reduce discharges of raw sewage is something the EPA has cracked down on in cities around the country. MSD began raising rates to pay for the infrastructure fixes, and they're now at the median of similar-sized cities. They will be above average in the next four years, Hoelscher said, and average rates will continue rising, peaking somewhere around $90 per month by the middle of next decade.
Area business groups and large companies have come out in support under the name "Campaign for Clean Water." The group counts support from groups like Civic Progress and the Regional Business Council and big companies such as Anheuser-Busch and Mallinckrodt Pharmaceuticals. Engineering and construction firms that stand to gain from bidding on the work, such as O'Fallon, Mo.-based SAK, also contributed to the group.
Mailers from the organization recently hit mailboxes urging support of the measure. Its treasurer, Patrick Lynn, said the group supports bonds to keep rate increases "affordable."
"With bonding, the growth is spread out over 20 years," he said.
St. Louis-based Missouri Coalition for the Environment, which was a party to the 2012 consent decree, also supports the bond issue.
"We've been pleased with the progress pursuant to the consent decree, and we think MSD is moving in the right direction in terms of taking a watershed approach, and they're moving forward on maintenance and upgrade projects that were long overdue," Coalition for the Environment Director Heather Navarro said.
STORMWATER TAX
The bond issue is just one of two big measures the sewer district covering St. Louis and almost all of St. Louis County has on the April 5 ballot. The other, Proposition S, would revamp its funding for the regional stormwater system by eliminating a hodgepodge of special property taxes and setting a uniform stormwater tax of 12 cents per $100 of assessed value across its service territory.
In the city, the increase amounts to just 3 cents per $100 of assessed value, and in the portion of St. Louis County between the city limits and Interstate 270, MSD stormwater property taxes will actually fall.
Most of the increase would be in the portion of St. Louis County outside of Interstate 270, where property owners pay just a two cent per $100 assessed valuation. That rate would rise 12 cents, with the increase paying for maintenance on a portion of the storm sewer system that has had little to no funding.
Outside of Interstate 270, the district has been unable to replace storm sewer pipes that are rusting through, add inlets on flood-prone streets or adjust storm pipe outfalls to reduce erosion on creek banks or private property.
The new districtwide 12-cent tax will raise an estimated $24 million annually for system maintenance, and about half of that budget is expected to be spent catching up in areas outside Interstate 270.
"It's a lot of little stuff, but it affects an awful lot of our ratepayers," Hoelscher said.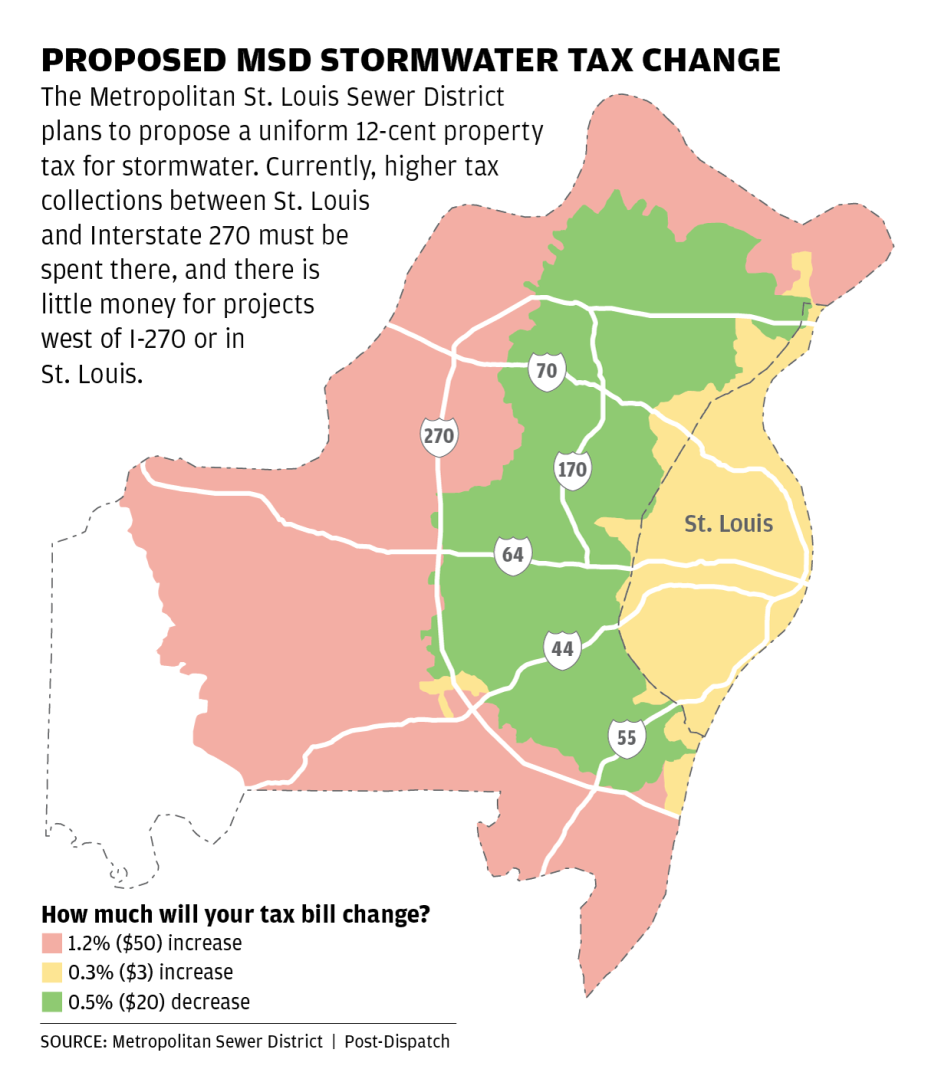 MSD BALLOT ISSUES
Two measures are being sought by the Metropolitan St. Louis Sewer District on the April 5 ballot. A simple majority is required for passage.
• Proposition Y would authorize MSD to issue sewer revenue bonds in the amount of $900 million to make improvements to the wastewater sewer district. The improvements would carry out a 2012 federal court consent decree reached with the federal government. To pay off the bonds, the average monthly sewer bill would increase by about 11 percent a year, from $40.72 now to $60.44 by 2019. Rates would rise further, to an average of around $100 a month between 2020 and 2030. If the voters reject the proposition, the district would fund the entire cost in the next four years, and rates would rise faster, with monthly MSD bills averaging $95.13 in 2020.
• Proposition S would create a uniform structure for stormwater maintenance service and taxes, resulting in higher taxes in some areas and lower taxes in others. It would accomplish that by establishing a districtwide property tax of 12 cents per $100 assessed valuation, replacing a rate that can range from 2 to 19 cents. The proposition also would eliminate a stormwater fee of 18 or 24 cents on monthly MSD bills. As a result of the changes, the annual stormwater tax for St. Louis County residents generally living outside of the Interstate 270 loop would rise by an average of $47.42. For county residents generally between I-270 and Interstate 170 and in some areas of north St. Louis County north of I-270 would fall by an average of $22.63. And in St. Louis and some inner suburbs, the stormwater tax would increase by an average of 72 cents.
Excellent Course Content
"The course content is excellent and meets the learning needs of our employees."
Chrisie A., Turner Construction
Committed Clients: