News
Feb 11, 2019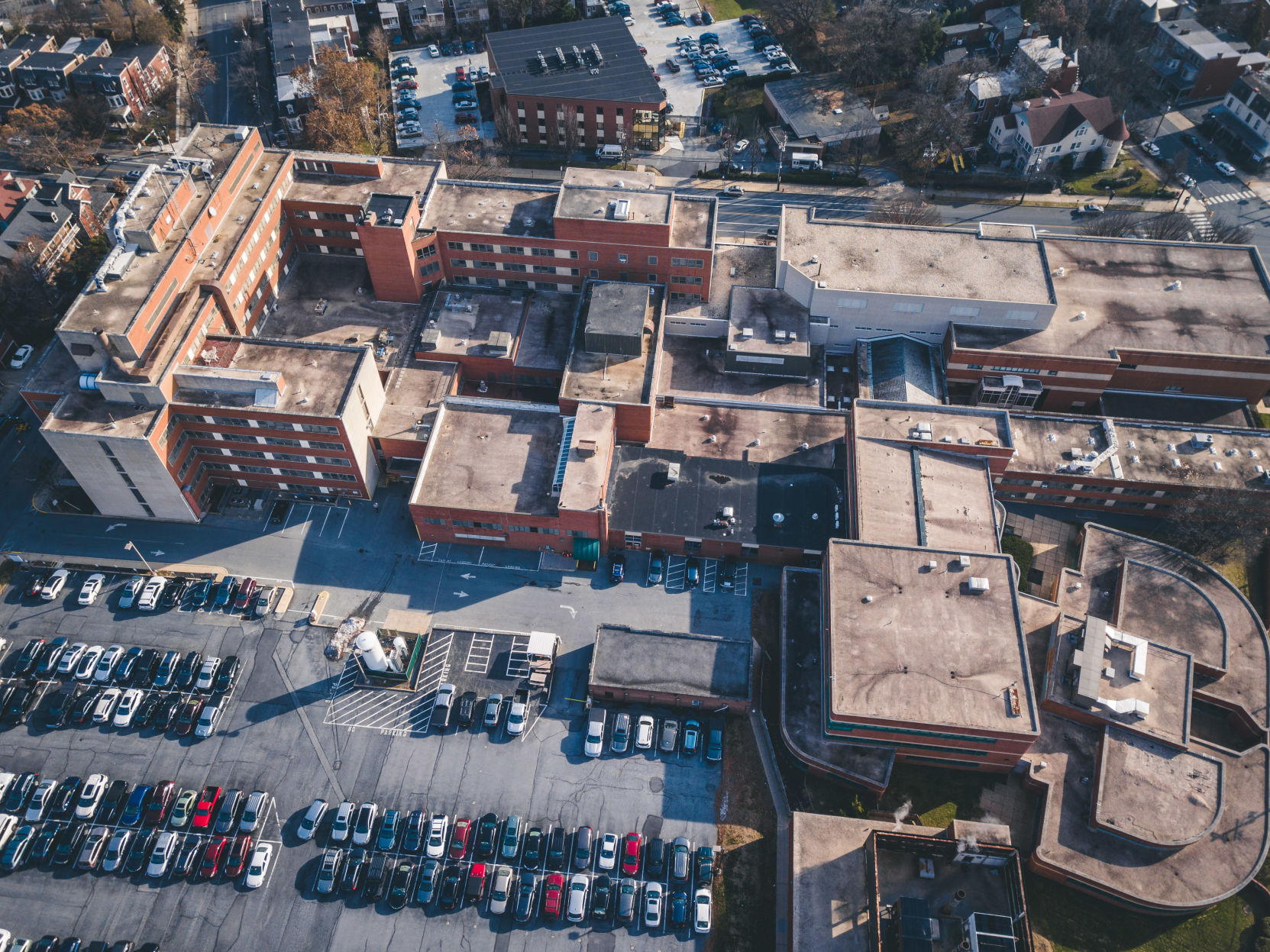 {This aerial photo shows a parking lot at UPMC Pinnacle Lancaster. Lancaster's "Green It!" plan calls for green infrastructure improvements at private parking lots to reduce stormwater runoff. QUINN STALEY | STAFF DIGITAL MEDIA PRODUCER}
Lancaster city officials aren't yet ready to offer estimates on the cost of complying with a federal consent decree to reduce the pollution it discharges into the Conestoga River.
The necessary analysis is still being done, they said.
But there's no doubt it will be "a huge, huge task ... and very expensive," Mayor Danene Sorace told City Council this week.
Unlike newer cities, most of Lancaster has a combined sewer system, so rainwater and sewage go into the same pipes. As a result, storm runoff frequently overwhelms the capacity of the city's Engleside water treatment plant.
The consent decree took effect a year ago Feb. 27. It requires the city to reduce stormwater "overflow events" over the next 20 years — from an annual total currently in the double digits down to four or fewer, stormwater program manager Ruth Hocker said.
Complicating the task is the need to keep the cost affordable, Sorace said: "We're threading a needle here."
The city could face steep penalties if it misses its targets.
Former mayor Art Morris said he thinks the full cost of complying "could easily reach well over $100 million up to $200 million," or even more.
Morris, an engineer by training, started his career in hydrology and flood control and served in the 1970s as Lancaster's engineer and its director of public works.
To be sure, there may not have been a viable alternative to signing the consent decree, he said. Still, "the city has taken on a great deal of cost and risk," he said.
---
Green vs. gray
Largely because of cost considerations, the city is putting green infrastructure front-and-center in its strategy.
Rain gardens, porous pavement and so on keep stormwater on-site that otherwise would flow into sewers. They're much less expensive compared with upgrades to "gray infrastructure" — that is, sewer system components such as pipes, collection reservoirs, pump stations and treatment plants.
Green infrastructure is part of the city's stormwater program, which is funded by a fee levied on property owners since 2014. Sewer costs are covered by sewer rates.
Recently, the city published an update of "Green It! Lancaster" — its green infrastructure plan — along with manuals on design, maintenance and monitoring.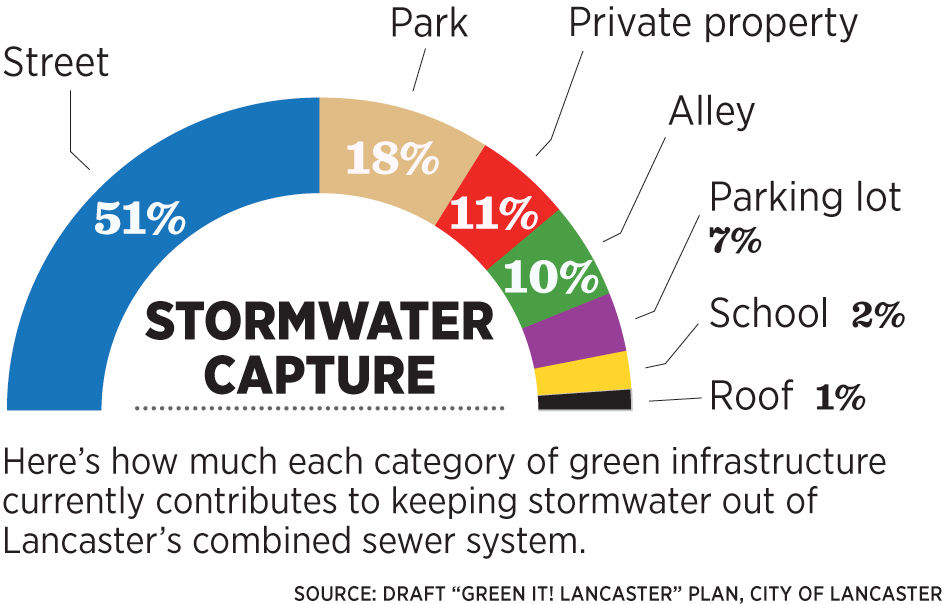 The first iteration of "Green It!" came out in 2011. The city has implemented all its recommendations, Hocker said.
The update provides a fresh list of more than 200 possible green projects to reduce runoff on public property: Streets, alleys, schools, parks and so on.
Bonds issued last year provide $1.2 million a year over the next four years for such work, Hocker said. In addition, state and federal grants can often be obtained to help offset expenses.
---
Private sector cooperation
But projects on public land and rights-of-way aren't enough. The list includes another 125 possible projects on private property.
"The city ... cannot meet the stormwater reduction and clean water goals set forth in this plan without the cooperation and collaboration of private property owners and city residents," the "Green It!" document says.
In particular, private parking lots account for 14 percent of Lancaster's land area and 27 percent of its impervious area. That makes them the largest category of impervious area other than roadways, the plan says.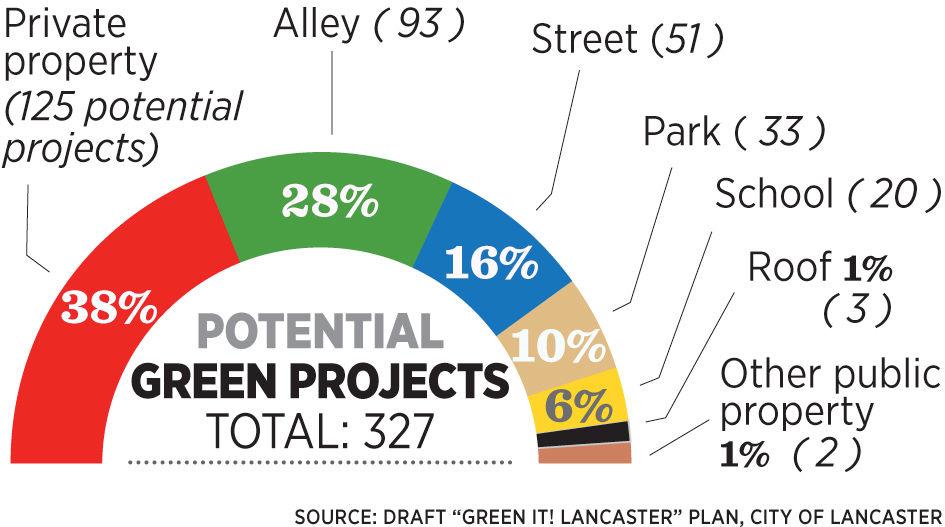 Greening them, especially the largest ones, "would contribute significantly" to meeting plan goals, the city says. It recommends bolstering incentives such as grants, rebates or tax credits.
Bottom of Form
Properties that upgraded to meet current standards are eligible for reductions in stormwater fees, Hocker said.
Len Bradley, supervisor of engineering services at RGS Associates, said Lancaster is at the forefront among U.S. cities in its greening strategy.
RGS has done many green infrastructure project both for the city and for private clients.
The consent decree notwithstanding, Lancaster's stormwater regulations are comparable to those of surrounding municipalities, he said. And while stormwater control measures may add to a project's cost, it's typically modest, and it ends up raising the property value, he said: "You end up with a better project."
The public and private projects listed in "Green It!" range from very tentative possibilities to ones for which design has begun. There's no telling yet how many might ultimately be implemented, Hocker said.
Public awareness
Meanwhile, gray infrastructure remains very much a part of Lancaster's "dual strategy." To figure out the best mix of green and gray projects, the city is preparing an "alternatives analysis" that it will submit to the U.S Environmental Protection Agency, Hocker said.
The city faces a "gigantic undertaking," and one that involves considerable uncertainty, Morris said. Despite its best efforts, he said, there's a chance it may end up having to build some of the gray capacity it's hoping to avoid.
He urged city officials to share cost estimates when they become available and to educate the community "to the greatest extent possible."
"I doubt that the general public realize the challenges and expense," he said.
The consent decree requires a public participation plan, and "there will be public input," Hocker said.
The decree was negotiated between the city, the U.S. Department of Justice, the EPA and the state Department of Environmental Protection.
On the web
Drafts of Lancaster's green infrastructure plan update and its design, maintenance and monitoring manuals are on the city's website.
They will be submitted to the U.S Environmental Protection Agency toward the end of the month.
The city is accepting public comments on the drafts through 5 p.m. Feb. 20. They may be emailed to [email protected] or mailed to:
City of Lancaster
Stormwater Bureau — Attn: Ruth Hocker
120 N. Duke St.
Lancaster, PA 17608
In 2010, There were over $116.6 million dollars of fines issued nationally with direct connection to violations of the Clean Water Act, in conjunction with the NPDES permit
Committed Clients: