News
Sep 19, 2018
Andrew Freeman - Axios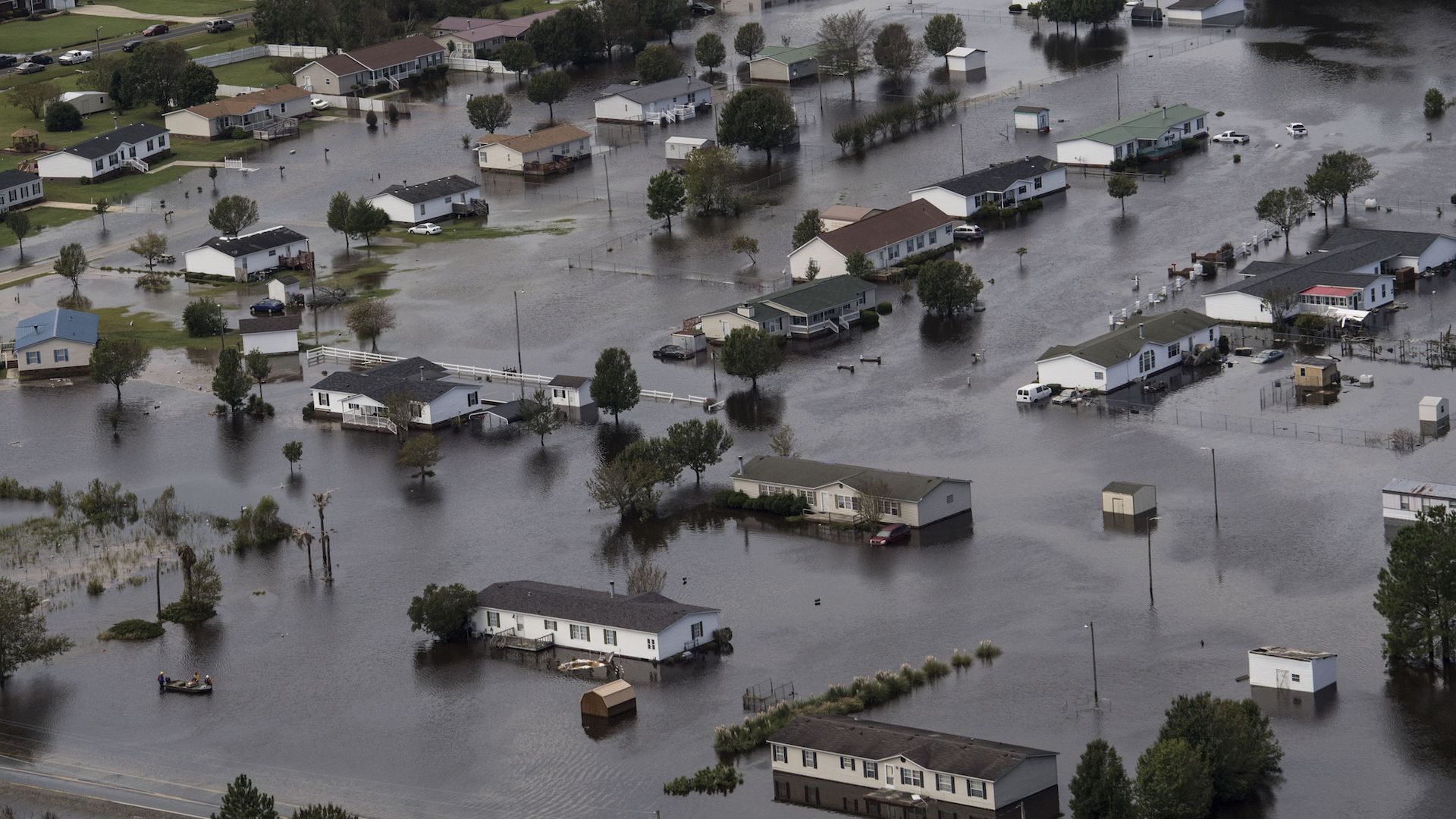 {Flooding from Hurricane Florence in Lumberton, NC. Photo: Carolyn Van Houten/The Washington Post via Getty Images.}
Hurricane Florence's rains have finally left the Carolinas, but the risks there are growing with rising rivers.
The big picture:
Florence's death toll had risen to 32 by Tuesday, with the storm shattering rainfall records in the Carolinas and ranking as an event that had less than a 0.1% chance of occurring in any given year. (In other words, this was a 1,000-year event for many.) Floodwaters have breached at least two storage facilities for coal ash, and hog farms that dot the landscape of eastern North Carolina are reportedly leaking waste into floodwaters.
More fatalities:
On Monday, more lives were lost as floodwaters swelled and a tornado outbreak caused by Florence's remnants swept across parts of Virginia. The fatalities include a 1-year-old boy, killed when floodwaters ripped him from his mother's arms.
Between the lines:
The hazardous waste concerns center on everything from Superfund sites to coal ash pits and hog waste lagoons.
As of noon on Tuesday, the North Carolina Department of Environmental Quality said 4 hog lagoons had suffered structural damage, another 13 had discharged waste when they were overtopped and 9 had been inundated.
At least 4 power plants that store coal ash have reported some type of breach in containment, which raises the possibility that this byproduct of burning coal has made it into rivers and, eventually, water supplies.
Coal ash contains hazardous heavy metals that are harmful to human health, such as arsenic and mercury.
One such spill has occurred at the Sutton power plant on Lake Sutton. According to The Washington Post, the coal ash landfill there has lost "more than 2,000 cubic yards of toxic waste, enough to fill more than 150 dump trucks."
By the numbers:
Rising rivers are now cresting or will soon crest in many places in North Carolina, with record heights already being recorded.
The Lumber River at Lumberton, North Carolina, hit a record crest of 22.21 feet, nearly 10 feet above flood stage. Nearby homes are flooded once the river hits 17 feet.
The Cape Fear River in Fayetteville is forecast to crest at 61.8 feet on Wednesday, shy of a record but well-above flood stage, which is 35 feet. Such a reading would also be higher than the river level in the wake of Hurricane Matthew in 2016, considered a benchmark flood for much of eastern North Carolina.
Other rivers are rising more slowly, and the flooding from all these waterways "could last weeks," warns the National Weather Service.
The rainfall amounts that caused this flooding are staggering, with 30–40 inches falling over a wide swath of the Carolinas.
Approximately 46% of the lakes in America are too polluted for fishing, aquatic life, or swimming.
Committed Clients: