EPA: Maryland on track to meet 2017 Bay pollution goals
Jun 27, 2016
By JOSH BOLLINGER | ORIGINAL SOURCE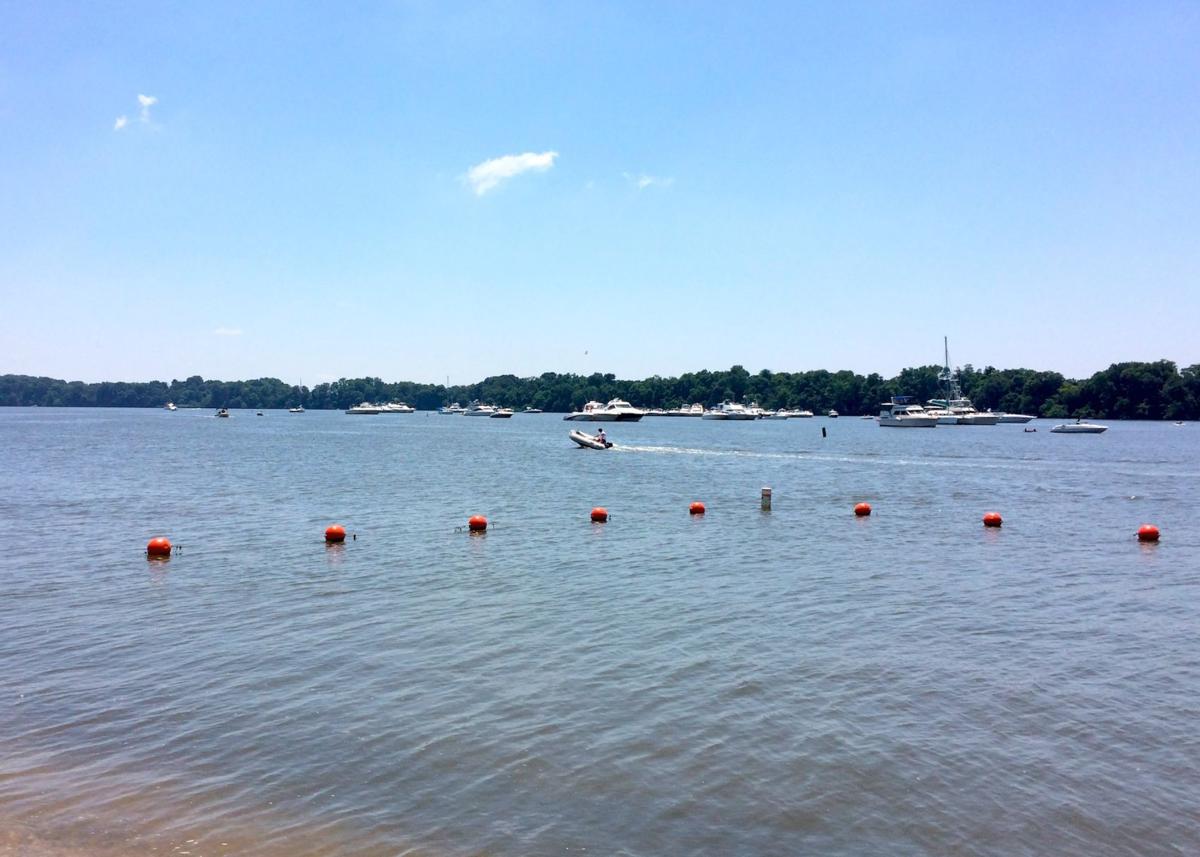 {Boaters flood Fairlee Creek off Mears Great Oak Landing on Saturday, June 25. In a recent evaluation, the U.S. Environmental Protection Agency stated that Maryland is on track to reach its 2017 Total Maximum Daily Load goals to reducing pollution to the Chesapeake Bay.| PHOTO BY JOSH BOLLINGER}
Top of Form
Bottom of Form
EASTON — The U.S. Environmental Protection Agency recently released its evaluations of Chesapeake Bay jurisdictions' restoration efforts, and Maryland is on track to meet all its 2017 target goals.
The EPA evaluated restoration efforts of the six Bay states — Maryland, Virginia, Delaware, New York, Pennsylvania, West Virginia — and the District of Columbia from 2014 to 2015 to determine whether the jurisdictions will meet their midpoint 2017 goals.
The Chesapeake Bay Total Maximum Daily Load goals aim to reduce pollution to the Bay, with a deadline to implement what was deemed necessary to restore the Bay by 2025. Sixty percent of the pollution reduction measures need to be in place by 2017.
"While we are seeing solid progress across every sector, we also recognize that not all sectors in each of the jurisdictions are where they need to be in order to meet Bay water quality goals," said EPA Regional Administrator Shawn M. Garvin.
The TMDL aims to reduce phosphorus, nitrogen and sediment pollution across different sectors, including agriculture, wastewater, urban runoff, septic and forrest coverage.
EPA's evaluation indicates it is unlikely jurisdictions, collectively, will meet the 60 percent threshold for reducing nitrogen by 2017, but they are collectively on track to meet local reductions for phosphorus and sediment.
Maryland, however, is on track to meet all its statewide 2017 targets, according to the EPA. The state fell short of meeting its 2015 goal for nitrogen in all source sectors except for wastewater, but it achieved its statewide 2015 target for phosphorus and sediment.
The EPA stated in its evaluation of Maryland's 2014 to 2015 milestones that the state has made enough progress in the agriculture and wastewater sectors to ensure implementation is occurring, "even though all of the milestone commitments were not achieved." Projected reductions for nitrogen in the urban and suburban stormwater sector are not on track, according to the EPA's evaluation.
The agriculture sector, however, is on track to surpass each of the sector's nitrogen, phosphorus and sediment goals by 2017, according to the EPA.
According to the Maryland Department of Agriculture, Maryland farmers continue to plant record cover crop acreage, "which is one of the most cost-effective ways to keep nitrogen out of ground water and the Chesapeake Bay."
Also, Maryland invested $31.2 million in grants last year for farmers to install 2,440 conservation projects, which includes cover crops, which control soil erosion and reduce nutrient runoff, the MDA stated.
The EPA recognized the state's Phosphorus Management Tool and Maryland Agriculture Phosphorus Initiative as one of Maryland agriculture's strengths in meeting its sector goals.
The Phosphorus Management Tool aims to reduce phosphorus pollution — mainly looking at phosphorus-rich chicken and dairy manure used as crop fertilizer — on the farm fields where phosphorus pollution is calculated to be the worst in an effort to reduce phosphorus runoff and improve the health of Bay waterways.
"Last year alone, Maryland farmers moved 167,237 tons of manure away from farm fields with high soil phosphorus levels — a 40 percent increase over last year's transport figures," the MDA stated. "And since 2014, the state has issued $3.7 million in grants through the Animal Waste Technology Fund to support new on-farm manure management technologies."
The EPA stated in its Maryland evaluation that the agency recognizes Maryland is working with Exelon on a $3.5 million enhanced monitoring and modeling study. Exelon runs the Conowingo Dam, which is the last dam along the Susquehanna River that runs through New York and Pennsylvania before the river reaches the Chesapeake Bay.
The dam has lost its sediment-trapping capacity, according to a U.S. Army Corps of Engineers study, and during large storm events, the sediment and nutrients associated with it scour over the dam and into the Upper Chesapeake Bay. The study also indicates, however, that nutrients released into the waterway upstream of the Conowingo Dam are of the most concern, rather than the dam itself.
"EPA recommends Maryland continues with these efforts and, along with the Susquehanna River states, begins to develop a strategy to further reduce nutrient and sediment loads to the Chesapeake Bay given that a greater portion of pollutants than previously anticipated is passing through the Conowingo Dam and into the Chesapeake Bay as a result of the reservoirs filling up and losing their trapping capacity," the EPA stated in its evaluation.
Some Maryland lawmakers and officials, including MDA Secretary Joe Bartenfelder in a recent interview with The Star Democrat, have pointed to Pennsylvania and are urging the state to pick up the pace in meeting its pollution reduction goals.
The EPA states Pennsylvania reached its statewide 2015 target for phosphorus but not for nitrogen and sediment. Pennsylvania is not on target to reach 2017 goals for the agriculture and urban and suburban stormwater sector for all pollutants, according to the EPA.
Pennsylvania officials have indicated the state intends to ramp up its efforts in an effort to be on track to meet its 2025 goals.
According to the EPA's milestone review, Pennsylvania fell short of developing and implementing a tracking and reporting system for agriculture best management practices in 2015, and it did not increase implementation of priority practices to improve water quality, including grass buffers, animal waste management and nutrient management.
"Pennsylvania will need to significantly increase its level of effort to reduce nutrients and sediment to meet its 2025 Bay TMDL goals, especially given that the gap continues to grow as a result of growth in various sectors," the EPA stated in its review.
The EPA may develop Pennsylvania-specific goals to help it get back on track to meet its 2025 Bay TMDL commitments and goals, the evaluation states.
Follow me on Twitter @jboll_stardem.
"CI206: Very interesting, and informative."
George L., J. Tropeano, Inc.
Committed Clients: