News
DEP Workers Say City Fabricates Creek Stats
Jul 15, 2016
Agency denies employees' claims of deceit, retaliation and mistreatment
By Christopher Barca, Associate Editor | QUEENS CHRONICLE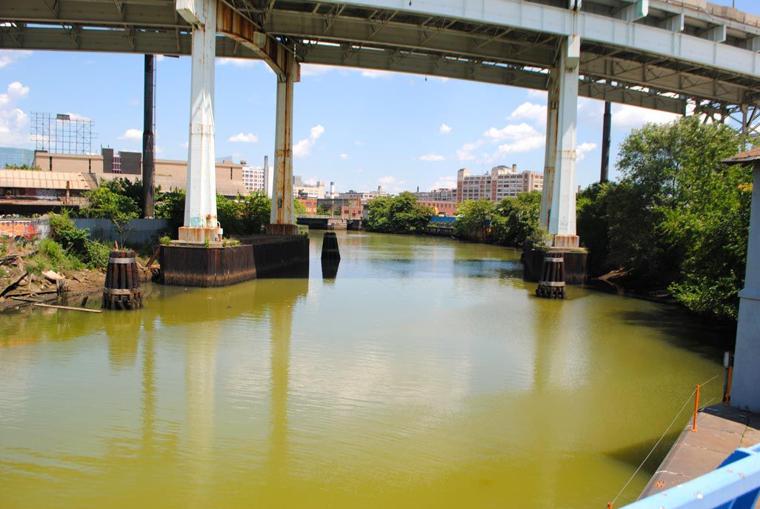 {PHOTO BY MICHAEL GANNON}
Thirteen people either employed or recently let go by the Department of Environmental Protection are readying to sue the city, claiming a years-long, wide-ranging conspiracy to skate around federal law and punish whistleblowers.
According to the plaintiffs, the DEP for years has purposely fabricated water quality reports prior to inspections by the federal government in order to appear to comply with the Clean Water Act, the primary law protecting waterways from pollution.
They allege the agency did that through manipulating logs containing measurement figures in the days prior to their inspection by the EPA, adding that anyone who tried to expose the plot was reprimanded unfairly or even threatened with termination.
The 13 plaintiffs also claim the DEP simultaneously dismantled its Office of Environmental Health and Safety — which administers the DEP's comprehensive safety and compliance efforts — while rewarding those who punished whistleblowers with promotions and money.
The six-page intent-to-sue notice, dated July 4, was sent to U.S. Attorney General Loretta Lynch, Mayor de Blasio, acting DEP Commissioner Vincent Sapienza, state Department of Environmental Conservation Commissioner Basil Seggos and federal Environmental Protection Agency adminstrators Judith Enck and Gina McCarthy.
"William Kelly, Chief at the NYC DEP Newtown Creek Laboratory, presently engages in managerial practices to intentionally corrupt data at each of these stages," the document reads, "by directing supervisors to make false statements in water quality logbooks just prior to government inspection."
Matthew Goldsmith, the attorney for the 13 plaintiffs, said in a Tuesday interview the EPA now has 60 days to look into the matter and determine whether it warrants opening a criminal investigation into the DEP.
If the EPA decides against it, Goldsmith explained, his clients will most likely pursue civil litigation against the DEP.
The attorney said he was first approached four years ago by Ed McGuire, who sued the DEP for allegedly firing him after he reported unsafe work conditions and environmental violations.
That suit was tossed last December, but Goldsmith said a handful of additional DEP employees came to him with similar stories.
But it was after the Flint, Mich. drinking water crisis became national news in January that Goldsmith said numerous current and former DEP workers came to him to tell their stories.
Four of the plaintiffs — Viktor Berylavsky, Michael Golden, Stacey Moriates and Pierre St. Louis — have already made their claims about the DEP under oath, according to the attorney.
While the document is short on specifics, it says actions taken during a 2013 staff meeting still constantly occur.
"During a staff meeting in February 2013 and two weeks prior to the New York State inspection," the filing says, "Kelly requested that Esmeraldo Castro flag all apparent violations present in water quality testing logbooks with a subsequent directive that Naudet Joasil and Patrick Hoyes amend the entries in a manner to misrepresent lawful compliance. Kelly continues to implement this unlawful practice at Newtown Creek."
The document goes on to state that measurements are taken in unsterilized rooms with dirty materials, things Kelly allegedly "passively" dismisses.
The plaintiffs also claim that Office of Environmental Health and Safety Chief Persis Luke systematically dismantled the unit by laying off effective auditors, not filling vacancies and allowing poorly performing auditors and other employees to remain on staff.
"After nearly six years as its deputy commissioner," the plaintiffs claim, "Luke has successfully diminished the quality and quantity of OEHS, as its number of auditors has decreased 50 percent and total number of personnel from 38 to 20."
Plaintiff Stacey Moriates — a 40-year DEP veteran and an international expert who's worked with the United Nations — said in the document she was reassigned to a position that paid $20,000 less and docked 2.5 hours' worth of pay and was brought up on disciplinary charges after she testified on behalf of Berylavsky at a 2013 hearing.
Those disciplinary charges were later contested in court, where they were dismissed by an administrative law judge because the DEP provided "no evidence" of wrongdoing on Moriates' part, according to the judge's ruling.
When contacted by the Chronicle on Monday, the city's Law Department scoffed at the new claims.
"The claims in this initial notice have no merit," a spokesman said. "We will review the complaint if one is actually filed and respond accordingly."
A representative from the DEP directed all inquiries to the Law Department when contacted by this newspaper.
Goldsmith, a civil rights and wrongful termination lawyer with admittedly little to no experience in environmental protection law, said he has yet to be contacted by the EPA about the claims.
One group that said it would be keeping a close eye on the possible lawsuit is the Newtown Creek Alliance, an environmental advocacy group dedicated to revitalizing the waterway.
"Enforcement of the Clean Water Act is fundamental to protecting public health and improving conditions for waterways like Newtown Creek that have been treated like open sewers for centuries," the NCA said in a statement. "We look forward to a thorough investigation into these very troubling allegations."
One of the more polluted bodies of water in the nation, Newtown Creek was a hub of industrial manufacturing and shipping for generations, as factories have operated along its banks since the late 1800s.
The city used the natural Brooklyn-Queens border as a sewage dump in the 19th century, while the factories and oil storage facilities that operated along the creek spent the better part of the 20th century pouring hazardous waste into the water.
Stormwater runoff, raw sewage, chemicals used to treat roadways and illegally dumped chemicals still find their way into the creek today.
A layer of polluted sludge between 15 and 25 feet thick in places lines the bed of the creek, leaving the water stagnant and nearly devoid of aquatic life.
The course clearly communitcated all learning objectives and concepts.
"The course information completely pertains to my daily activities and was very informative."
Patrick P., K. Hovnanian LLC
Committed Clients: