Comptroller: Sewer, stormwater upgrades crucial for Hudson River, other water bodies
May 14, 2018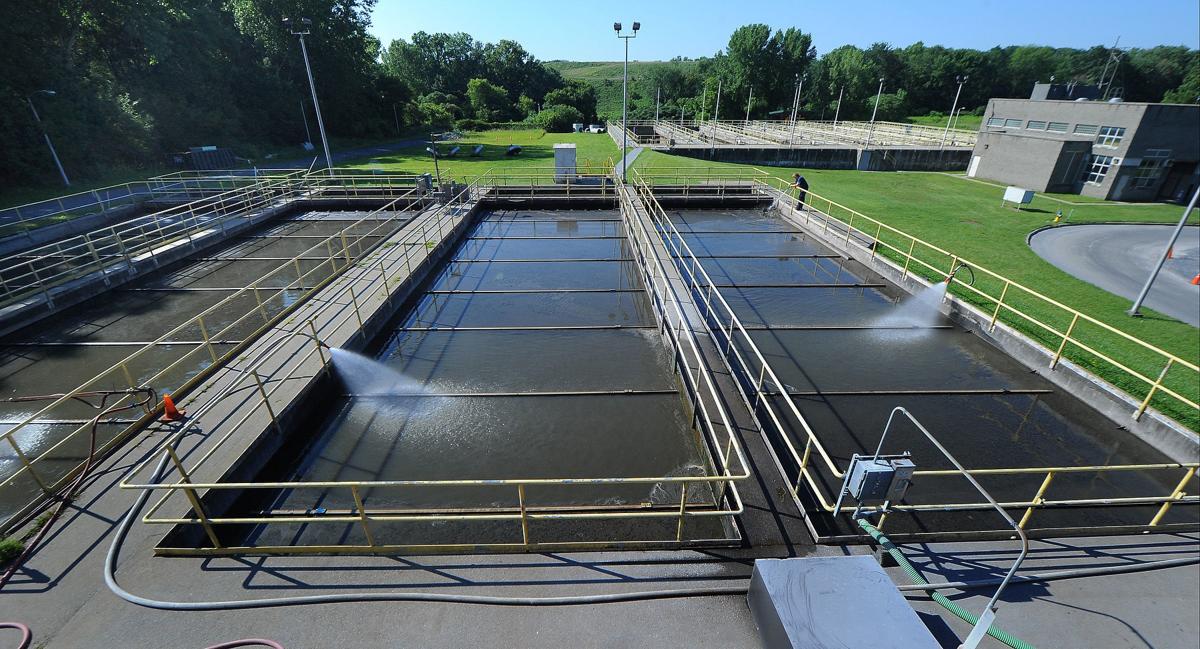 The primary tanks at the Glens Falls wastewater treatment plant on Shermantown Road. {Post-Star file photo}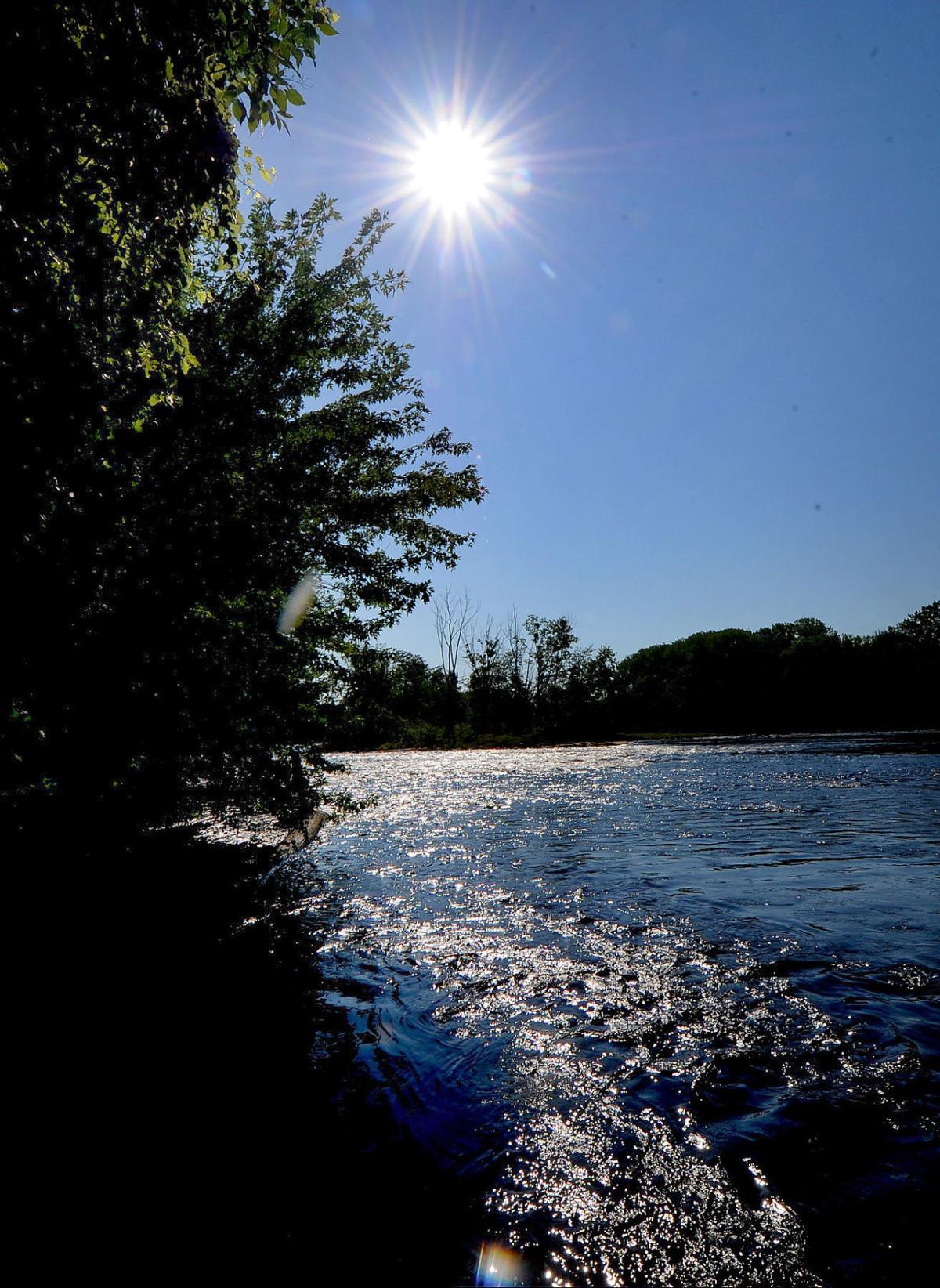 The Hudson River at the site where treated wastewater is released behind the City Waste Water Treatment Plant is seen in Glens Falls. Combined sewer overflows are common in older cities across the U.S. due to their aging infrastructure. Glens Falls is working to upgrade its system to help prevent the discharges that are common after heavy rainfalls. {Post-Star file photo}
Billions of gallons of untreated sewage and stormwater are released into New York's water bodies each year, typically after large rainstorms, when wastewater treatment systems can't handle the flow.
It's legal for 46 communities in the state with special permits, three of which include Glens Falls, Washington County Wastewater Treatment Plant and Ticonderoga Sewer District 5.
But New York State Comptroller Thomas P. DiNapoli wants state and local officials to do more to limit these combined sewer overflows, especially considering the heavier rainstorms battering the state. Between 2016 and 2017, for example, officials documented 1,900 overflow events that dumped approximately 6.5 billion gallons of wastewater into 220 water bodies.
That 6.5 billion gallons number, however, could be higher. About 10 percent of the overflow reports did not include how much wastewater was released or reported incorrect numbers, according to a release.
"When billions of gallons of untreated waste spills into New York's waterways, our health, environment, economy and quality of life suffer," DiNapoli said in a release. "State and local governments must remain focused on addressing the challenges of aging infrastructure through continued funding for these priorities, thoughtful capital planning and more sustainable development."
As a result, DiNapoli is proposing to create a capital asset and infrastructure council that would guide state investments to upgrade treatment plants. Upgrades are often costly for small towns and villages. A new wastewater treatment plant for the village of Lake George, for example, is projected to cost about $22 million.
Superintendent of Water and Sewer for Glens Falls Steve Gurzler said the city has a long-term control plan as part of its discharge permit. So far, a number of actions he and his department have taken have reduced the amount of overflow into the Hudson River between 2016 and 2017 by nearly 80 percent.
Some things they've done include installing catch basins into dry wells to collect rainwater. That cuts down on the amount of stormwater mixing into the system. The Ridge Street project, for example, redirected stormwater away from the plant, cutting down on flow levels.
According to the city's permit, the department can bypass the treatment plant and dump into a water body when the flow rate gets to about 13.6 million gallons per day. Gurzler said he tries to wait until the flow rate is even higher, at about 18 million gallons per day, before bypassing.
The measures have worked. In 2016, the plant bypassed the system 17 times, releasing about 4,229,000 gallons of sewage and stormwater into the Hudson River. In 2017, the plant bypassed 16 times, but released a much smaller 850,000 gallons.
"We've also made improvements at the treatment plant to reduce the amount of sewer debris by running it through a fine screen and by putting in better controls on our sewer bypass to help us maximize the flow that's created through the treatment plant," Gurzler added. "However, there's still a lot of work to do, and there's still a lot of sewers that need to be repaired and a lot of opportunities to separate the stormwater flow and the wastewater flow out in our system."
DiNapoli said there are many infrastructure improvement grants to help municipalities with the cost burden. The state's 2017 Clean Water Infrastructure Act authorized a $2.5 billion investment in water quality projects over several years. New York's Environmental Facilities Corporation is also planning to designate $903 million for low-cost financing through the Clean Water State Revolving Fund.
The comptroller hopes a new council could ensure those wastewater systems in the most disrepair be prioritized.
While the trend in Glens Falls appears positive, Gurzler said he's still waiting to see how 2018 rolls out. So far, the plant has bypassed four times, with a total of 150,000 gallons. The most was in January — 93,000 gallons released. Gurzler said the frozen ground made the stormwater an issue that time around.
"We welcome the opportunity to compete for that additional funding," he said of the grant programs. "We're always grateful for opportunities we can get to help the city with needed upgrades."
Reporter Gwendolyn Craig can be reached at (518) 742-3238 or [email protected]. Follow her on Twitter @gwendolynnn1.
"Enjoyed the info."
Josh B., City of Waynesboro
Committed Clients: