Art Project Encourages Public to Think About What's in Their Stormwater
Aug 20, 2018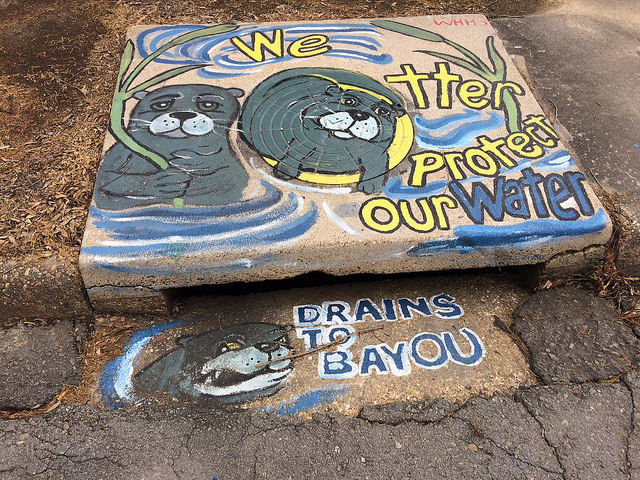 {Storm drains in the Pine Bluff area will receive special artwork to remind the public to guard against contamination.}
The Southeast Arkansas Stormwater Education Program is seeking artists to paint murals with educational messages on storm drains in Pine Bluff, White Hall, and Jefferson County as part of the Drain Smart UpStream Art project.
The project is a combination of two programs: UpStream Art and Drain Smart, which are carried out by the University of Arkansas System Division of Agriculture and Audubon Arkansas, respectively.
Over the past few years, both programs have worked in different areas of the state to increase awareness about storm drains, and address the common misperception that they channel runoff into water treatment facilities.
The truth, said John Pennington, extension urban stormwater educator for the University of Arkansas System Division of Agriculture in Jefferson County, is that the drains actually empty into creeks and streams, without any treatment whatsoever.
"This public misperception can harm water quality," Pennington said. Potential pollutants like fertilizers, soil, yard waste and pet waste can impair surface waters throughout Arkansas."
The Southeast Arkansas Stormwater Education Program is kick starting the Drain Smart Upstream Art program in Pine Bluff. The project will be funded and staffed through the Division of Agriculture; Audubon Arkansas will help display artwork through the Drain Smart website.
Through the Drain Smart UpStream Art project, artists will paint murals on storm drain infrastructure, communicating where the storm drain may empty — perhaps a creek, bayou or other waterway, Pennington said.
This public art and water quality awareness project, seeks to remind people that water entering storm drains will discharge untreated to local rivers and bayous.
"Good pollution management starts with awareness about the issues and prevention education," Pennington said. "The goal of Drain Smart Upstream Art is to raise awareness of the function of storm drains, to help reduce the amount of pollution carried directly into the environment."
Artists are invited to join the effort by submitting an application by September 18. Applications may be obtained by contacting the Jefferson County Extension Office at 870-534-1033 or [email protected].
© Copyright 2018 magnoliareporter.com, PO Box 1700 Magnolia, AR
Minimizing the amount of disturbed soil on the construction site will decrease the amount of soil which erodes from the site, and it can decrease the amount of controls you have to construct to remove the sediment from the runoff.
Committed Clients: