Nov 14, 2018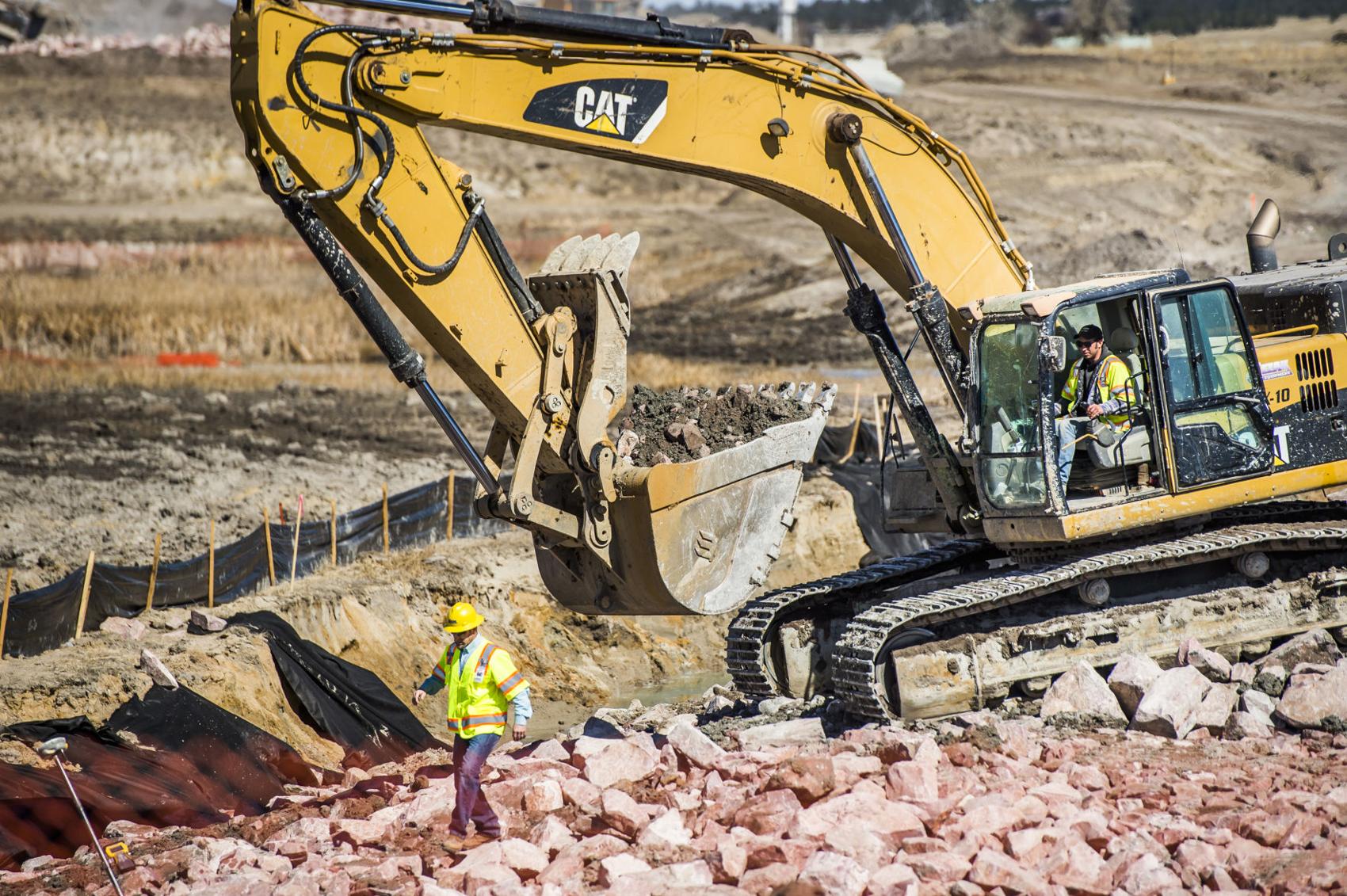 In 2016, workers make progress on the water quality pond at Woodmen Road and Sand Creek, the first project funded as part of $19 Million a year Colorado Springs has committed to spend on stormwater. The Gazette file
Top of Form
Bottom of Form
After winning a partial judgment last week in federal court that left Colorado Springs potentially facing hundreds of millions of dollars in fines for stormwater violations, federal and state agencies that filed the lawsuit say they want to reach an agreement with the city rather than continue the costly legal battle.
But first, the city will need to curtail ongoing violations, said Martha Rudolph, director of environmental programs at the Colorado Department of Public Health and Environment, one of the plaintiffs in the case.
"The city's failure to require that developers install functioning permanent stormwater controls at new developments results in violations of the Clean Water Act every time it rains and stormwater pollution to state waters from those sites is not controlled," Rudolph said Wednesday through a spokesman. "Once liability has been determined, it often makes the most sense for the parties to try and work together to create a plan for resolving these violations and then propose that plan to the court as a settlement agreement."
The possibility of a negotiated settlement in the two-year-old lawsuit would be a lifeline for Colorado Springs officials. Led by Mayor John Suthers, the city has been urging the plaintiffs and the court to acknowledge its efforts in recent years to better control stormwater runoff that has adversely affected downstream communities along Fountain Creek. Those have included a commitment to Pueblo County to spend $460 million over 20 years on stormwater projects and the resurrection of a stormwater fee to help pay for it.
City spokeswoman Jamie Fabos said Wednesday the city could not comment on any offers to negotiate because the lawsuit is still pending.
U.S. District Judge Richard Matsch ruled Friday that Colorado Springs violated its federal stormwater permit, called an MS4 permit, at three locations cited in a lawsuit filed in 2016 by the U.S. Environmental Protection Agency and the Colorado health department. Pueblo County and the Lower Arkansas Valley Water Conservancy District later joined the lawsuit, citing increased E. coli levels, erosion and flooding.
The city could be charged as much as $57,570 per day for each violation since Nov. 2, 2015, the lawsuit says. Earlier violations could net fines of $37,500 per day. That amount drops more for violations before Jan. 12, 2009.
Matsch's ruling so far could leave the city on the hook for hundreds of millions of dollars in penalties, two councilmen warned.
Matsch also could award the plaintiffs injunctive relief for each violation found, the complaint says. An injunction is essentially an order to stop a certain behavior that, in this case, results in violations of the stormwater permit.
Previously, city officials said they hoped that the newly resurrected fees and additional stormwater work would head off the trial, the first phase of which was held in September, or keep the judge from slamming the city with penalties.
The city "has created and implemented what we believe to be among the state's most robust stormwater programs, and it not only complies with but exceeds the requirements of the (stormwater) permit," said city stormwater Manager Richard Mulledy. "We remain hopeful that the plaintiffs will see it in the best interest of all parties to settle the case and avoid additional costly litigation so we (can) focus on continuing this important work into the future."
In addition to the violations in last week's ruling, more claims still remain against Colorado Springs.
Before proceeding with those, Matsch likely will schedule a conference between city officials and the plaintiffs, said Pat Pfaltzgraf, director of the state health department's Water Quality Control Division.
Pfaltzgraf said Matsch's ruling will hold the city accountable for failing to enforce regulations under its stormwater permit to protect the Fountain Creek watershed and the Lower Arkansas River from pollution.
Runoff into those waterways carries chemicals, sediment and other pollutants, erodes stream banks, destroys habitat for fish and other aquatic life and harms downstream communities, according to EPA audits in 2013 and 2015.
"Judge Matsch's judicial order means that we are one big step closer to the city of Colorado Springs fixing the ongoing pollution its violations have caused," Pfaltzgraf said.
[email protected] @conrad_swanson
© 2018 Produced by Colorado Springs Gazette
Diverting offsite runoff around a disturbed area reduces the amount of stormwater which comes into contact with the exposed soils. If there is less runoff coming in contact with exposed soil, then there will be less erosion of the soil and less stormwater which has to be treated to remove sediment.
Committed Clients: